Use G-Floor Graphic® Print Media for BOTH Long-Term Floor Graphics and Short-Term Floor Graphics
Use G-Floor Graphic® Print Media for BOTH Long-Term Floor Graphics and Short-Term Floor Graphics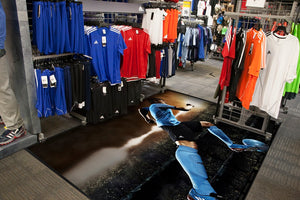 With exceptional versatility and performance, the G-Floor Graphic® print media family – G-Floor Graphic® and G-Floor Graphic® Fabric print media (Print Floor) – beats the competition when it comes to printable flooring for your customers' short-term graphic flooring and long-term graphic floors.
G-Floor Graphic® is a revolutionary 100% solid, premium polyvinyl graphic imaged flooring product manufactured in the USA to enhance your grand-format printing capabilities and offerings. Short-term floor graphics and long-term vinyl graphic floors come alive in sharp, vivid color and clarity, protected by the industry's best wear layer. You'll benefit from these other great features as well:
Most G-Floor Graphic® products utilize second surface printing with custom graphic images reverse printed underneath our printable vinyl material so they won't wear off or damage from scratches, heels, denting, etc.
Withstands excessive foot traffic and is tough enough to drive a car on yet is comfortable underfoot.
Slip-, stain- and UV-resistant
Waterproof
Flame retardant
Super easy to clean – soap/water/vacuum
Lightweight and recyclable
Multiple installation options from free-floating floors to moveable flooring to permanent custom graphic flooring
Variety of clear/solid options, thicknesses and textures to make any size and shape custom designed floor come to live!
For short-term floor graphics:
Floor stickers and floor decals just can't compete with G-Floor Graphic® durable vinyl floor graphic print media or Print Floor fabric custom flooring. Although G-Floor Graphic® is the most durable graphic floor, it is ideal for moveable flooring applications you want to reposition from location to location, and for printed custom flooring that you want to roll up, store and reuse later.
Marketing, advertising, retail and commercial professionals use short-term floor graphics for many promotional applications: POP, POS, tradeshows, event signage, wayfinding, countertop displays, moveable mats and so much more!
We recommend our G-Floor Graphic® 35 Mil vinyl print material and Endutex Print Floor for short-term flooring. For short-term outdoor custom flooring, G-Floor Graphic® 85 Mil White does the job best. Mounting adhesives and seaming products are available for short-term floor graphics that can help extend the life of your printed floors for short-term use anywhere from 12-36 months.
For long-term floor graphics:
Our G-Floor Graphic® vinyl flooring is a completely solid product without any foams, fillers, laminates or inexpensive top layers which can break down more quickly from moisture. G-Floor Graphic® outlasts and outperforms other printable flooring materials, making G-Floor Graphic® the ideal choice for long-term custom flooring. And with the toughest wear layer in the world, cool floors, niche floors and creative floors of all kinds will last years without fading, tearing, cracking and peeling even under the roughest wear and tear.
G-Floor Graphic® commercial flooring and printable roll out flooring is available in widths up to 10 feet and lengths of 50 feet for covering large spaces with fewer seams when permanently installed long term. Our 75 Mil printable vinyl can last up to 5 years even under heavy foot traffic. It is perfect for commercial and retail customers of every kind (bars, restaurants, stores within a store, arenas, stadiums, theaters), architects designing office flooring, automotive dealership floors, infographic flooring for education and exhibit spaces, and the list goes on!