Application Spotlight: G-Floor Graphic® Pickleball Court
Application Spotlight: G-Floor Graphic® Pickleball Court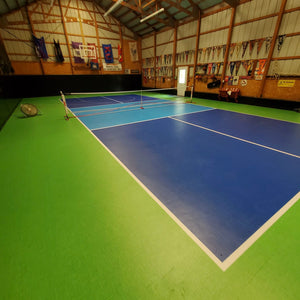 G-Floor Graphic® is known for producing material for custom flooring, and all things print media! This application is by far one of the coolest we've seen. A residential pickleball court! Yes, you heard that right, and here's everything you need to know about the unique application!  
This project transformed a pole barn garage holding nothing but junk, into a full size custom pickleball court. The court was custom designed by an artist and the image was produced at a graphic print house called Large Printing located in Kansas City using G-Floor Graphic® 75 Mil Ceramic texture flooring.  
The garage floor was prepped, cleaned, and fully installed by professionals. The unique application includes the use of a ⅜ high density padded underlayment for more comfortable playing. First, the underlayment pad was glued to the subfloor, next the vinyl Pickleball court was glued over the padding, both utilizing Roberts 7399 adhesive. After fully adhered, the edges were joined with G-Floor Clear Welding Rod and the heat welding process to create a waterproof seal and seamless appearance.  
Seriously, one of the most unique G-Floor Graphic® installations! This pickleball court is kind of a big 'dill'. Contact us today to get your material for your one-of-a-kind creation! Check out all the unique, custom applications at gfloorgraphic.com!