The Basics of BILD/G-Floor Graphic Elite 50 Mil Printable Clear Polyvinyl
The Basics of BILD/G-Floor Graphic Elite 50 Mil Printable Clear Polyvinyl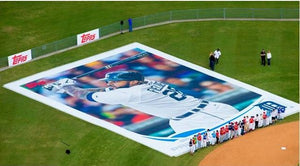 G‑Floor Graphic® Elite 50mil polyvinyl print media is great at promoting your next event, sale, or business with your desired vibrant images. Extremely durable, lightweight, solid polyvinyl is completely customizable with either first or second surface print. Elite 50mil is offered in Clear Ceramic.
The Ceramic texture is compared to an orange peel. It provides a perfect amount of traction for a slip resistant surface which is needed for guests and heavy foot traffic.
The Clear Ceramic is typically reverse printed on the bottom side (Second Surface) and provides the thickest wear layer in the industry by protecting images. 
Elite 50mil works best with Solvent, Latex, and UV inks on a variety of printers. Clear is well suited for long-term indoor floor graphics (6 months to 3 years) and can provide a wide range of applications!