8 Tips for a Successful Print Run with G-Floor Graphic® Products
8 Tips for a Successful Print Run with G-Floor Graphic® Products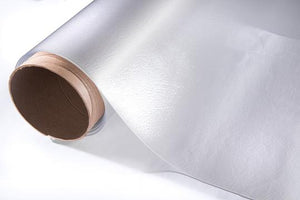 We truly want you to find total success when using our G-Floor Graphic® print media vinyl printable flooring. These simple tips are absolutely necessary to begin the printing process using G-Floor Graphic® durable vinyl for custom graphic floors.
1. Material alignment. Squaring up your vinyl flooring roll is key. The slightest offset can mean big issues in the vinyl graphics run. Remember, a little offset, in the beginning, is a lot offset down the roll of printable flooring. G-Floor Graphic® is thick and can't accommodate slight offset like a banner or a pressure-sensitive printable vinyl.
2. 6" core adaptors. G-Floor Graphic® arrives on 6" inner cores rolled print side OUT. The material is supplied on 6" core to ensure you get the most yield possible. We provide free adaptors which are reusable. Also remember when printing vinyl, it's important to support the center of the core for best results. Core adapters come with instructions in the box, but you can always call us if you have questions.
3. Room conditions. Print custom graphics as close to the actual install temperature as possible. The vinyl print material grows two ways – up and out. 75° F is a safe zone.
4. Print settings. We recommend a profile for gloss vinyl banner. It is ideal on roll devices to make a profile to accommodate the thickness on stepping. Vacuum's start around 60%. We also recommend raising your print carriage an extra 0.20" in height.
5. Rerolling. When rerolling on a print device, be sure to roll the print material textured side OUT, displaying the image rather than white. Referencing back to the 6" core, this will make follow thru production and help speed up floor graphics installs as well. Keep your rolls wound tight and square to prevent distortion of the custom image floor. Take your time and plan ahead!
6. Finishing. Material should be delivered on a core, properly wound. You want the product to go flat as soon as possible, so rolling the imaged flooring out is ideal. Be sure to cover the entire custom graphic image if you are using shrink wrap, as this will help with lay down; 6" core rolled image out will provide the best results.
7. Packing. When shipping in cold weather, we recommend a thin layer of padding to ensure rough handling will not shock or crack printed vinyl material. The way our vinyl graphic material arrives to you is the same way it should ship out to customers!
8. Project guidance. Better Life Technology, the manufacturer of BILD Print Media, offers free services to help guide you on your projects and processes. No one knows printed vinyl flooring better than BLT, so utilize their expertise when needed.
Follow these guidelines and build profits using the unlimited potential of G-Floor Graphic® custom graphic vinyl products.