Elevate Your Booth at the Next Tradeshow with G-Floor Graphic®
Elevate Your Booth at the Next Tradeshow with G-Floor Graphic®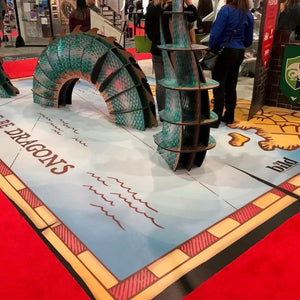 Feel confident that your booth will stand out from the rest with vibrant floor graphics! G-Floor Graphic® helps you create custom full floor mats for eye-catching wayfinding.  
Here's the top three reasons why G-Floor Graphic® should be in your booth! 
Extreme Durability
G-Floor Graphic® withstands high traffic areas, rolling racks, heavy equipment, heels, and spills.  
Complete Customizability
Standing out from the crowd is easy with G-Floor Graphic®. You can be sure your floor is one of a kind and custom for your business and product.  
Easy Installation and Storage
There is no adhesive required! Installing is as easy as unrolling and positioning into place. When finished, roll up your mat tightly on the core and store in a tube to preserve it for your next tradeshow. 
Here's a tip: When planning your next tradeshow, check whether the event space requires approval for your graphic flooring.
G-Floor Graphic®  print media has a variety of textures, colors, and sizes all made with 100% polyvinyl. Enhance both your booth and your business with bold, custom, unique designs. The possibilities are endless: display branding or feature specific products with the help of G-Floor Graphic®!