How to Achieve the Perfect G-Floor Graphic® Application
How to Achieve the Perfect G-Floor Graphic® Application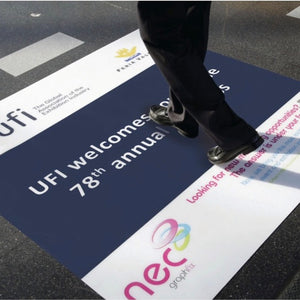 Whether you are promoting products or creating a visual experience for your brand, there are a few things to consider before choosing G-Floor Graphic®! What Is the application? Are you installing indoors or outdoors? What is the expected lifespan of the project?  Here are a few tips for making sure G-Floor Graphic® is the perfect fit for your application.
Placement
Start by choosing where your G-Floor Graphic will be applied. If placed in a high traffic area on the floor for way finding, choosing a clear vinyl that is second surface printed will provide more longevity as opposed to a solid first surface printed graphic.

Our 75 Mil Clear is recommended for this application.
Indoor or Outdoor
For an indoor, long-term application, Clear is best. For short-term outdoor graphics, Solid is best suited. Looking for a short term or outdoor solution? Our Ceramic or Super Smooth White, suitable for first surface print options are best for short-term applications, even outdoor.  Considered shorter term as excessive traffic can cause wear on your image.
Indoor Adhered G-Floor Graphic
G-Floor Graphic material isn't just for tradeshows and repositionable graphics.

It is a true flooring product that can withstand extreme traffic and can be installed in any room to enhance your space.

 

Our clear 75 Mil Ceramic or Woodgrain is recommended for long term fully installed applications.

 

Visit our gallery to see installed floors in a variety of places!
Applications
Tradeshows
Way Finding
Point of Purchase Areas
Airports
Restaurants
Health Care
Counter Tops
Museums 
Exhibits 
Keep in mind that choosing the correct thickness should depend on placement – Whether it is indoor or outdoor, the duration of planned use, and the amount of foot traffic. As all G-Floor Graphic products are extremely durable 100% polyvinyl, it's still important to consider these tips to choose the perfect product for your project! Find out all the details and more at GFloorGraphic.com.