Create Custom Long-Term Graphics Today with 35 Mil G-Floor Graphic®
Create Custom Long-Term Graphics Today with 35 Mil G-Floor Graphic®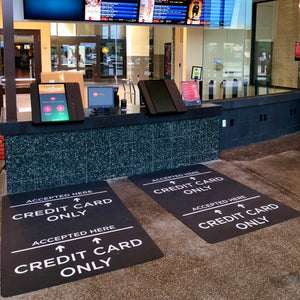 Enjoy your long-lasting floor graphics with G-Floor Graphic® 35 Mil vinyl flooring. Don't waste your money on short term, flimsy, decals that need to be scraped up after five or six months if you're lucky; G-Floor Graphic® 35 Mil lasts up to 3 years and provides a customizable canvas that's tough enough to drive a car on. Here's why 35 Mil G-Floor graphics are the best, high-quality and durable floor graphics on the market.
G-Floor Graphic® is 100% Polyvinyl
100% vinyl offers a durable solution to floor graphics. No added fillers, which can make the material weaker and more apt to tearing or becoming damaged quicker.  There is 35 Mil of solid vinyl to display vibrant images and withstand high traffic areas. This thickness is perfect for directional floor signage, floor stickers, and repositionable display mats.
Options for Custom 35 Mil
Ceramic Clear

Best suited for indoor use, Ceramic Clear is second-surface printed: signage is mirror printed on the back and provides bright, defined visuals.

Woodgrain Clear

Just like Ceramic Clear, Woodgrain Clear is also best suited for indoor use and second-surface printed, with a slight "woodgrain" texture for added traction and visual appeal.

Super Smooth Absolute White

Blank, smooth, untextured surface suited for both indoor and outdoor use. Super Smooth White is first-surface printed on top of the vinyl and is great for high traffic areas.
Whether your custom signs are at point of purchase areas or in front of an escalator, they will perform to last! Shop the G-Floor Graphic line today!